Recent years have seen a considerable increase in consumer demand for high-mix low-volume production. In particular, the need for supply chain reorganization and shorter delivery times necessitates that shoe manufacturers in Taiwan urgently establish agile and precise real-time management strategies. For this project, a renowned Taiwanese shoe manufacturer wanted to actively promote its digital transformation in response to evolving industrial competition.
Three key challenges driving digital transformation
The shoe manufacturer aimed to achieve a 50% increase in production efficiency over the next five years and to implement lean management strategies. However, in the process of promoting operational growth, they encountered three key challenges.
The first challenge was that the networking of their production line equipment was minimal, with many tasks relying on paper-based data collection. In addition to a lack of transparency, this meant that parameter settings and equipment status could not be captured in real time, making it difficult to share and replicate the experience. This resulted in low overall management efficiency and hindered the implementation of lean management. The second challenge was the manufacturer lacked the ability to integrate heterogeneous systems and data collected from diverse devices or systems. For the third key challenge, there were high technical requirements and a steep learning curve for equipment management, as well as no effective handover strategies to facilitate the organization's rapid expansion.
To overcome these challenges and accelerate the optimization of their operations, the manufacturer had to undergo digital transformation. To achieve this, Advantech proposed its iFactory solution.
Digitally transforming the footwear industry with iFactory
Advantech's iFactory Footwear Industry is a total solution that comprises software (e.g., OEE, Andon, and ShopFloor), hardware (e.g., gateways and edge computers), and multiple industrial applications (I.Apps) that satisfy the manufacturer's customization needs.
Using Advantech's WISE-iFactory OEE solution for real-time data visualization, the shoe manufacturer was able to immediately improve their responsiveness to problems and quickly resolve the issues identified in their production processes. For example, using the WISE-iFactory OEE solution to obtain data from their IP injection molding machine eliminated the risk of human error when manually copying data. Furthermore, the data could be transmitted and reports exported in real time, allowing production personnel to manage operations according to the actual on-site performance.
As part of the solution, Advantech's domain-focused solution partner, HITI, developed several I.Apps for collecting real-time production data and related parameter settings. This enables the system to monitor the internal temperature of the mold and issue an alert if abnormal temperatures are detected. The system also monitors the rotating speed of the roller, the product length, thickness, production temperature, pressure, and vacuum status throughout the IP production process.
All data from the production line is uploaded to Advantech's WISE-IoT platform for centralized monitoring of production status to ensure high product quality through data sharing and real-time data analysis. For the manufacturer, this reduces the risk of production downtime due to equipment abnormalities. Most importantly, however, this allowed equipment parameter data to be easily replicated at other factories as the organization expands, thereby standardizing operations and improving overall competitiveness.
Real-time management of production lines 
Complete integration of equipment and systems 
Comprehensively optimized production operations
WISE-iFactory Solution Advantages
Microservice model 
High flexibility of I.Apps 
Highly scalable software platform 
Industry-specific application development
Related Product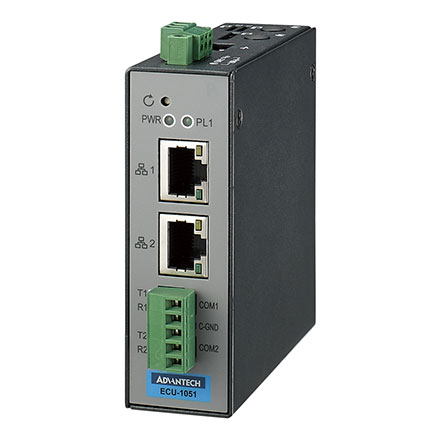 ECU-1051
2LAN 2COM Modbus/BACnet/101/104/DNP3/PLC/Azure/AWS IoT Gateway
MIC-770 V3
Compact Fanless System with 12th Gen Intel Core i CPU Socket (LGA 1700)