Project Introduction
Artificial intelligence (AI) and 5G networking have revolutionized transportation applications. They have enabled and empowered many smart functions such as visual recognition, deep learning, low-latency communication, and many diverse intelligent applications for safer, more convenient transportation infrastructures. 
In Taiwan, there are more than 400 railway crossings on roads, unfortunately there are also hundreds of crossing accidents, causing many fatalities and injuries every year. Railroad barriers are not closed by default and if they do not fully close when needed, they could cause at best, unintentional delays and at worst, terrible accidents. Manpower alone cannot guarantee safety at level crossings so a new project was setup that applied technology to the problem and came up with an application that used video analytics to tackle the issue. The solution needed to take into account geographic conditions, weather conditions, and driver blind spots to improve safety at entrances to level crossings.
Project Requirements
Railway crossings are spread out across the country. To achieve guaranteed safety levels using automated systems is actually very difficult with many variables to consider and response times which are sometimes not fast enough. To address this, a railway operator started looking at technologies like edge computing, AI, and 5G communications to fully unleash capabilities that are needed for a smart transportation application of this type. By deploying digital cameras, edge AI platforms, and 5G connectivity, a system could quickly identify objects, people, and the motion of vehicles to achieve 99.9% accurate 24/7 automated railway crossing monitoring without human intervention. The solution needed to be fast enough to compute big data collected from cameras and sensors, integrate it all together, process and perform AI video analytics via the installed VAIDIO platform, and provide instantaneous alerts and warnings to vehicles and train conductors.  
Project Description
An artificial intelligence software company – IronYun USA, offer a world-class, highly accurate AI vision platform called—VAIDIO. IronYun have assisted customers worldwide in deploying tens of thousands of cameras for monitoring applications across many vertical markets, from transportation and harbor management, to nuclear power plants, public healthcare and many more. They sell their end-to-end private cloud VAIDIO AI Vision platform to enterprises and governments and were rated as a major business in the global surveillance market by IDC in 2021. IronYun reached out to Advantech because of its well-known reputation for highly reliable industrial computers. IronYun looked for a powerful Edge AI solution to work with their VAIDIO AI software. The edge AI platform needed to support multiple I/O, 5G networking, and most importantly be capable of handling massive amounts of video with near zero latency, so that any potentially dangerous incidents at railway crossings can be detected in advance and acted upon in real time, with emergency alerts and warnings sent to operators and train conductors in order to avoid serious accidents.
System Description
For this case, IronYun needed to install four cameras around the railway crossings, connected and powered by EKI-7710G-2CPI PoE switches for image capture. The video data would be sent to an ITA-3650G railway wayside AI edge platform with an MXM RTX-3000 GPU card for real-time data analysis and a built in AIW-355 5G module for data transmission, which could be installed in cabinets besides the railway crossings.
ITA-3650G integrates and processes massive amounts video data from cameras every second and is analyzed by the VIDIO AI platform in real-time. VAIDIO can identify any objects and their status through multi-frame analysis using its highly capable algorithms. For example, if an object stays on a railway crossing longer than 30 seconds, an intrusion event would be identified and confirmed by VAIDIO, then instantly turned into alert warnings and sent out through 5G to a train conductor within 2 seconds.
Event example: When a barrier is closed, a constant barrier closed status will be sent in real time to the Instant Alert System. When the Instant Alert System knows the barrier is closed, but it also receives an intrusion alert from VAIDIO/ITA-3650G, the Instant Alert System will send instantaneous alarm notifications to the incoming train conductor from 1-2 KM away, so the train conductor can react accordingly (stop or slow down the train).
System Diagram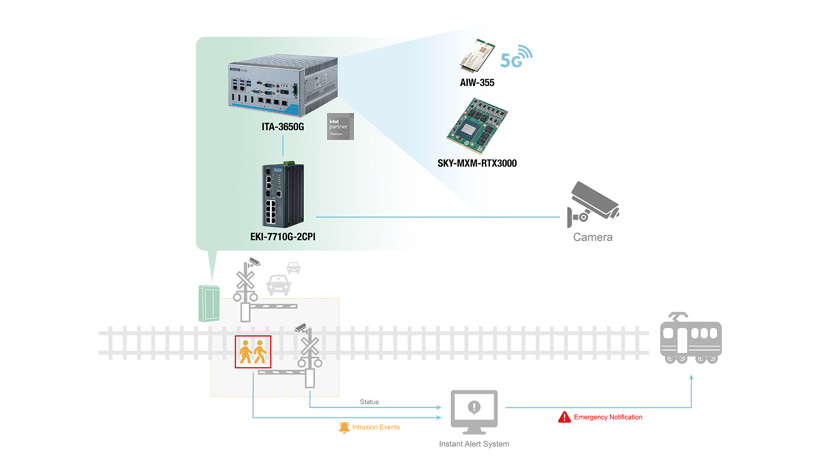 Project Implementation
Conclusion
As many smart applications are deployed in rural or remote areas, they require a solution that can be easily installed, be super reliable, and able to operate in harsh conditions. Using a cloud-based service is not cost-effective, because the cost of an industrial-grade AI edge platform deployment is only a fraction of the price of using a cloud-based service. Also, the data transmission distance from the network edge to the cloud and back would not be timely. Therefore, an edge computing solution was the answer. 
By collaborating with Advantech, the Intel x86-based fanless ITA-3650G AI edge platform embedded with MXM GPU and 5G cellular modules, delivered a powerful, high-speed and reliable early warning. ITA-3650G handles massive frames in micro seconds and VAIDIO identifies objects and any abnormities from multiple frames to identify suspicious event flags which activate the  99.9% accurate railway crossing alert response. As a result, from capturing video to alerting a train conductor takes less than 2 seconds.
Related Product
ITA-3650G
Fanless System with GPU module for Traffic Application
EKI-7710G-2CPI
8GE PoE and 2G Combo Managed Ethernet Switch, IEEE802.3af/at, 24~48VDC, -40~75℃