As part of the country's efforts to pursue carbon reduction targets, a Chinese vanadium producer based in Shaanxi Province (陝西省) received a government grant under a "New Energy & Energy Storage Demonstration Project" to build a "Waste Heat to Power" (WHP) facility at one of its plants in Shanxi Province (山西省), which collects waste heat from the vanadium extraction and refining process and converts the heat into electricity, coupled with a 1.5MW Vanadium Redox Flow Battery (VRFB) based energy storage system. 
Shaanxi Fengyuan Vanadium Technology Development Co. Ltd (陝西丰源釩業), an energy storage technology company and a subsidiary of the same vanadium business conglomerate, took full advantage of Advantech's rugged industrial communication and computing products and IoT software platform to develop an energy management system for this project. The system enables intelligent monitoring and control of the energy equipment, allowing the operator to take energy power management measures such as load balancing and peak shaving to achieve more efficient, economical and environmentally friendly use of electricity at the plant. 
Shaanxi Fengyuan was very impressed with the ruggedness and reliability of Advantech's hardware, as energy applications often face the most extreme environmental challenges in terms of high temperatures and electromagnetic interference. In addition, the customer is pleased with the convenient tools provided by Advantech WISE-iMachine platform, which has allowed them to develop an IoT system for such a complex project in the shortest possible time to meet the project's requirements.
Typically, a battery energy storage system (BESS) needs to connect and monitor equipment or subsystems including the battery management system (BMS), power conversion system (PCS), power distribution cabinet, environmental control system (ECS), energy meters and other components required by the operator – in this case including an access control system and video surveillance system.
Because these components use different industrial communication interfaces (Modbus, CANbus, DL/T645, and others), the application requires an IoT gateway or edge controller with high density I/O points for large-scale BESS to convert the multiple protocols into an IoT-standard format for data processing, upload, applications and storage. 
In terms of IoT networking, gateways and switches are required to build a high-speed, low latency wired/wireless network for transmitting data to a local server or to a cloud-based server at a remote monitoring and control center to realize real-time data visualization and monitoring.
Project Implementation (Products)
AMAX-5580 EtherCAT automation controller with Codesys
ECU-1252 CAN to Ethernet protocol gateway with EdgeLink 
ADAM-4117 Modbus RS-485 Remote I/O
EKI-2428 unmanaged Ethernet switch
IPC-610 4U rackmount chassis with visual alarm notification
The system integrator (SI), Shaanxi Fengyuan, developed an energy storage management system to monitor and control the energy facilities at the Shanxi vanadium plant, using the AMAX-5580 as the edge controller and main data gateway. The AMAX-5580 collects status data from the subsystems, converts the data into a unified format for processing with SI-developed algorithms, implements subsystem control, such as battery charging or discharging, and uploads filtered data to the local server and to the cloud SCADA system. 
The SI chose the AMAX-5580 automation controller because it is a high-density and flexible computing system that they can easily expand to over 20,000 I/O points for a larger scale BESS deployment in the future. In addition, this EtherCAT controller supports the CODESYS programming environment and can be run on both Linux and Windows operating systems, making it very convenient for the SI to develop their own domain-specific applications.
Meanwhile, another Advantech industrial PC – the IPC-610 – is installed separately for video streaming from the plant's surveillance system. An ADAM-4117 remote I/O unit is used for the access-control system, which not only collects and transmits data from devices at an access point but also receives commands from the controller to open or lock the door. 
However, for smaller energy storage systems below 2MW and with I/O requirements below 20,000 points, the Advantech ECU-1252 is an appropriate choice, offering rich communication I/O (2 CANbus + 2 COM + 2 Ethernet) and a Cortex A9 processor with commensurate processing power, suitable for a lighter IoT gateway. Installed with protocol conversion software, EdgeLink, the Advantech ECU-1252 is a powerful and versatile IoT gateway for data processing and uploading.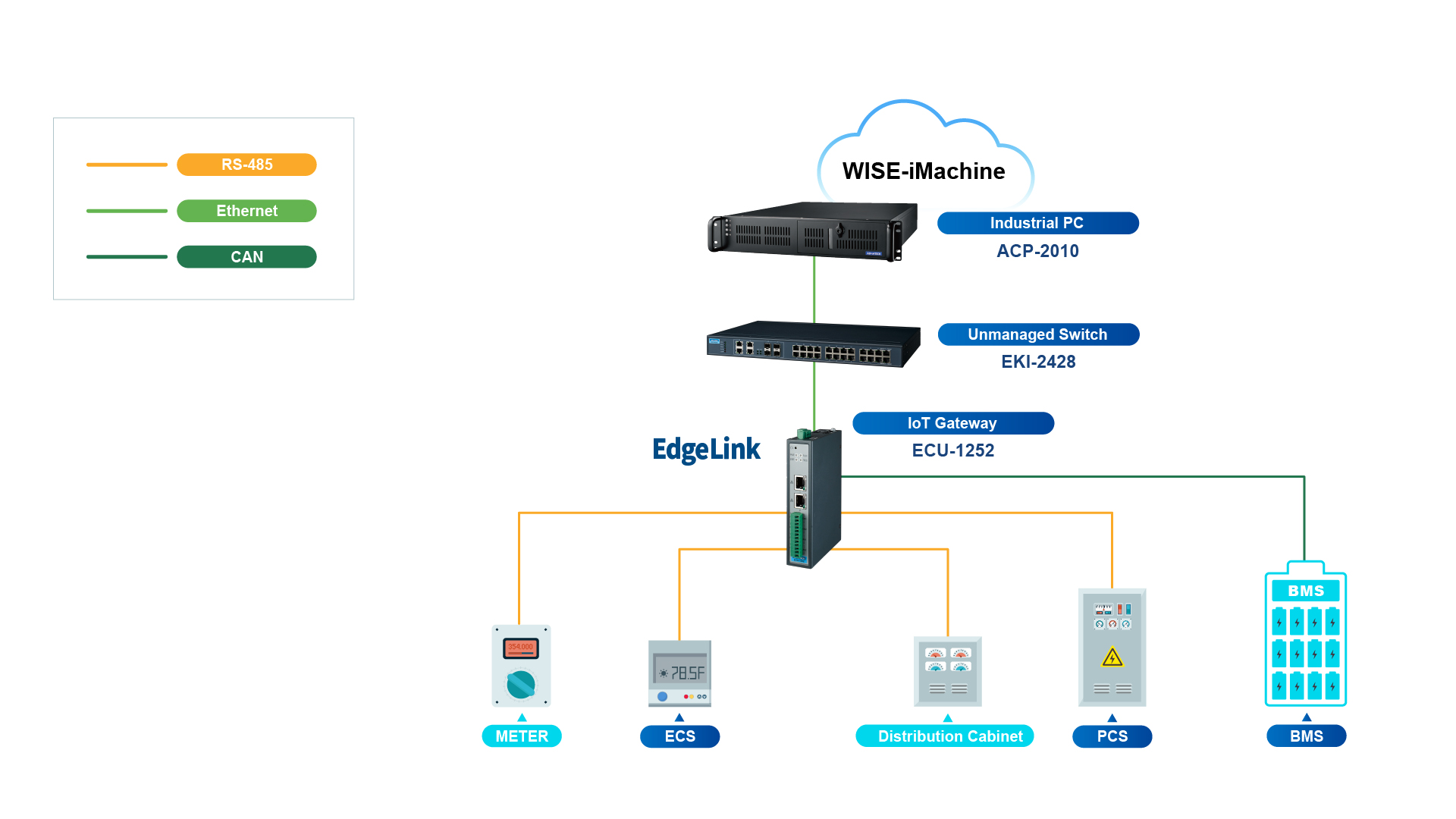 Related Products
ACP-2010
2U Rackmount Chassis for ATX/ MicroATX Motherboard with Low-Profile Rear Bracket Option
IPC-610L
4U 15-Slot Rackmount Chassis with Front-Accessible Fan
ADAM-4117
8AI Robust Modbus RS-485 Remote I/O
ADAM-6717
8AI/5DI/4DO Intelligent I/O Gateway