One of the most important elements of the supervisory control and data acquisition (SCADA) system in an electrical substation is the communication system. Furthermore, there is an ongoing trend toward unmanned and digital substations, which are playing an increasingly prominent role in power grids worldwide. Ensuring the stable and reliable operation of the substation communication system is therefore a decisive factor to the success of the project. 
EVNSPC is a power grid operator located in southern Vietnam. EVNSPC's goal is to implement a solution that facilitates substation automation, which would enable high-value, efficient, and reliable operations for the substation.
Substations must feature a communication system that allows the substation's internal systems to transmit information to one another, as well as allows the substation to communicate with external bodies such as a control center or dispatch center. 
As substations can be considered critical infrastructure, the communication system must be rigorous enough to guarantee high network availability. It must be equipped with redundancy features, and must be able to prevent any downtime.
A cost-effective network architecture with simplified network connections would involve connecting each individual intelligent electrical device (IED) to an Ethernet switch. This meant that each switch would need a high density of ports.
In response to the global movement toward standardized IED communications, this system would be built on the basis of the international standards IEC 61850 and IEEE 1613.
EKI-9226G-20FOI: IEC61850-3 20G SFP + 6GE Managed Ethernet Switch 
Each of the customer's substations' devices would be integrated into the communication environment of the SCADA system. This includes remote terminal units (RTUs), bay control units (BCUs), protection relays, multifunction meters, time servers, and other devices.  These connections would be realized through the Advantech EKI-9226G managed Ethernet switches, which are IEC 61850-3 / IEEE 1613 certified for substation and high voltage environments. These switches are designed to withstand the harsh environments found in a substation and be resistant to electromagnetic interference, and can connect with a wide range of peripheral equipment. Individual IEDs in the substation would be connected to a switch using fiber and copper lines, and the connections from multiple switches would converge on one switch in a control bay, which would be responsible for connecting to a human machine interface (HMI), gateway, or other terminal equipment such as printers. It can also connect to a router and firewall, which would then permit external connections such as to a control center or dispatch center. The system would offer redundancy by having individual switches connect to each other in addition to the switch in the control bay using Advantech's proprietary X-Ring Pro system, which allows the system to recover from failed connections. All in all, the EKI-9226G provides steady and continuous connections for collected data to be sent to control computers.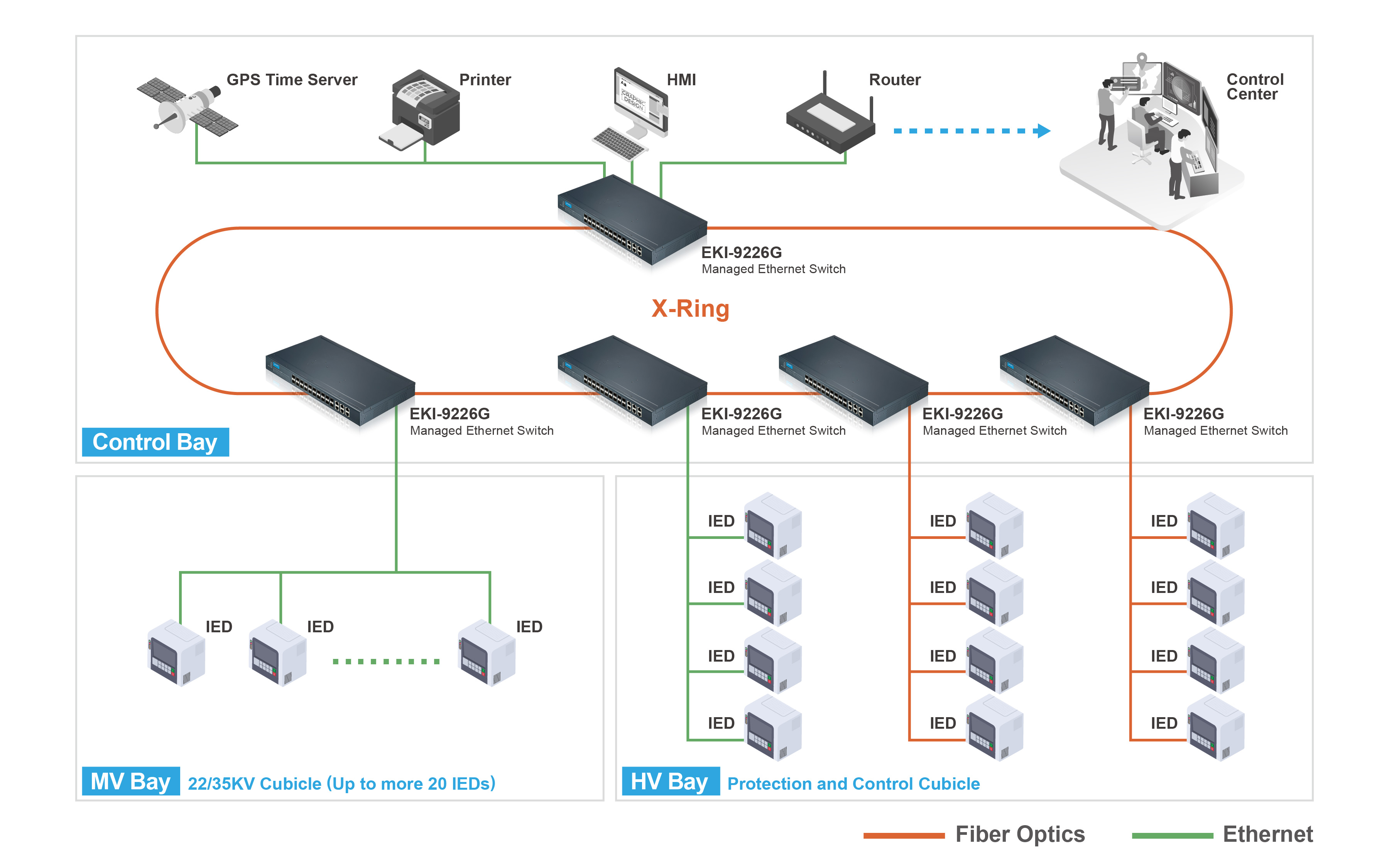 EKI-9228G-8CMI
IEC61850-3 28GE Managed Ethernet Switch, 48DC
EKI-9226G-20FOI
IEC61850-3 20G SFP + 6GE Managed Ethernet Switch, 90 ~ 264VAC/88 ~ 370VDC
EKI-9228G-8COI
IEC61850-3 28GE Managed Ethernet Switch, 90 ~ 264VAC/88 ~ 370VDC
EKI-9226G-20FMI
IEC61850-3 20G SFP + 6GE Managed Ethernet Switch, 48DC