Introduction
Railway transportation (high-speed rail, mass rapid transits, subways, light railways, etc.) is still the most popular method of commuting in most cities around the world. However, according to statistics from the Mineta Transportation Institute in San Jose, California, there have been more than 300 major terror attacks on railways over the past half century resulting in the loss of countless lives. This shocking statistic doesn't include the many near misses, which makes passenger safety a top priority for railway operators worldwide. With today's powerful Artificial Intelligence (AI) technology, railway operators are able to achieve active monitoring and prediction using the latest AI inference techniques so that the safety and security of their passengers is guaranteed.
System Requirements  
In Japan, most people have the impression that public security is very good, but several train attacks have occurred in recent years. Incidents of arson and stabbings have caused unrest and panic among the public, and put pressure on the Japanese government and railway operators to act. Therefore, a Japanese railway operator developed an AI system that can identify the human skeleton and physical movement. The computer vision system can identify the physical behavior pattern of passengers and the items they carry from the images obtained by installing multiple cameras in the carriages. For example, if a passenger is wielding a weapon, the system can identify and predict the passenger's next move to prevent potential attacks in advance. It can also help provide speedy assistance for simple accidents (such as passengers falling down).
System Description
Advantech provided a total solution to the railway operator that complied with EN 50155 international railway regulations. This included an ITA-5231G-S7A1 fanless system, SKY-MXM-T1000 MXM GPU module, and an EKI-9512G-4GMW managed Ethernet switch. The system comprises eight PoE cameras installed in carriages which records video while the train running. The video frames are sent to the ITA-5231G-S7A1 system which has special AI software pre-installed. ITA-5231G-S7A1 analyzes the video frames using its embedded MXM GPU module and identifies abnormal events. If a dangerous situation occurs, the system will immediately send warning notifications to the individual train cab and staff, so that railway staff can deal with it as quickly as possible.
Customer Requirements
Purchase all hardware from a single supplier if possible—avoiding incompatibility issues caused by buying from different manufacturers..
Internationally recognized railway certifications to ensure reliable operation in harsh environments.
Provide 2U rack-mounted computers that are easy to install and maintain to make maintenance easy. . 
Dedicated GPUs for multi-video capture, AI analysis, identification and alerts. 
Expandable features for system expansions, upgrades, and maintenance using the same hardware architecture.
Project Implementation
The ITA-5231G-S7A1 system complies with international rolling stock certifications and has plenty of tolerance to the high vibration and shock generated during train operations, as well as to any electromagnetic interference and temperature changes in the carriages. ITA-5231G-S7A1 is equipped with an embedded NVIDIA Quadro T1000 GPU module. The GPU capability of the MXM graphic module enable the system to quickly analyze large amounts of video data for the AI to quickly identify abnormities, so train drivers can receive warning alerts on their screens in the train cab.
ITA-5231G-S7A1 uses a fanless design, so there is no need to worry about the service life of fans, making the system more durable and reliable. The modular design makes it easy to expand components in the future when new functions are needed. For example, if the project needs to add more cameras, an additional LAN port can be added, or a SSD hard disk added to increase the number of days of video data. An MVB or CANBus interface can also be added if necessary.
In terms of technical support, Advantech has a branch in Japan with FAE engineers who provided immediate local support. If the developers encountered difficulties with anything, Advantech's professional team was there to quickly provide technical support, as well as debug the system to achieve optimal performance.
Product Description 
ITA-5231G-S7A1: Intel® 6th generation Core™ i processor fanless system; EN 50155 compliant for railway applications.
SKY-MXM-T1000: Embedded NVIDIA® Quadro® T1000 dedicated GPU card for AI inference.
EKI-9512G-4GMW: 12-port managed Ethernet switch; EN 50155 compliant for railway applications.
System Diagram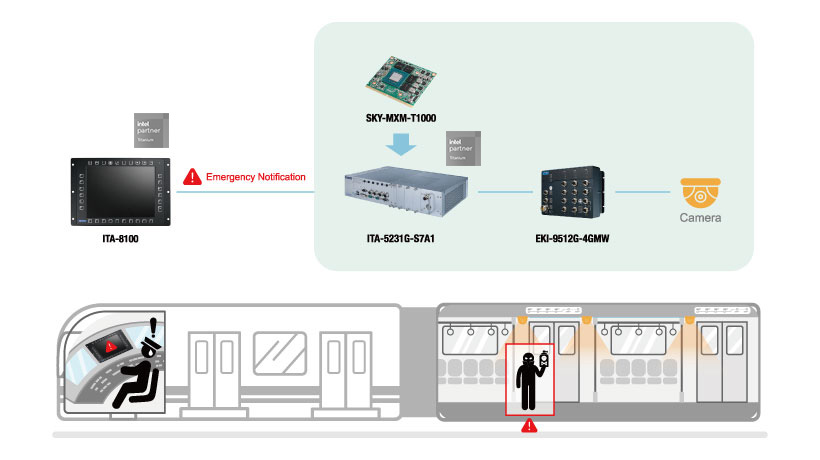 Conclusion
Advantech's total solution AI system for active monitoring and prediction co-developed by the Japan Railway Company delivered exceptional recognition accuracy and performed flawlessly. The fanless rolling stock-grade computers, high-speed computing GPU modules, and network switches, monitored, scanned, and quickly identifies images with potential red flag incidents, allowing onboard train staff to quickly react to incidents and accidents in real time to assure passenger safety. Altogether, the system has reduced the probability of accidents and the demand for extra staff posted at each station has also been reduced.
Advantech actively assists railway operators around the world in their digital transformation. We hope to help customers make innovative use of IIoT and AI technology. By accelerating their digital transformation, they assure passenger safety and create a safer travel environment, not to mention improving the passenger experience and reducing labor costs—thereby boosting business success. 
Related Product
ITA-5231G
Fanless System; EN 50155 Compliant for Railway Applications
ITA-8100
EN 50155 10.4" Fanless Railway Touch Panel PC with Intel Atom x7-E3950 Processor
EKI-9512G-4GMW
EN 50155 12-Port Managed Ethernet Switch with up to 8x PoE Ports